Looks like you have accepted, or should I say extracted a very nice reward. That said, I'd love to add my donation to your sweet, wet pussy or axiously open mouth.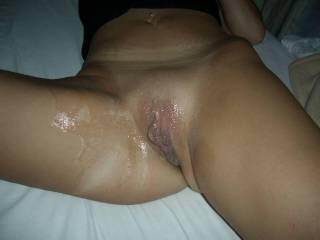 I want to take you into the livingroom and open the curtains on the front window. So the whole neighborhood can watch as you get on your knees and take all of my cock in your mouth and I grab the back of your head and pound your face long and hard. Cars stop in the street and people get out to watch your gorgeous face devour every inch of my meat.
Then I pick you up and face you out the window. Blindfold you and tie your wrists to the wood frame, one foot to the radiator, lift your other foot up on the window sill so your ass is spread wide open for all to see. Then plow your dripping wet pussy from behind with my long stiff tongue as your tits press up against the cool glass. With as much pussy juice as you've generated, I think you could use another load of hot sticky and thick cum to extend that sweet dollup of hubby's load that is inching closer and closer to your gorgeous asshole! . And I've got just the load for you! Date night out with hubby, or date night out? Haha Slipping cock into slippy pussy is always fantastic. That is if you enjoy a second guy getting you after first has finished. Let's make a big mess and mix the sperm from all the guys who wanted to add. My cock stirs the soup. Jerks off and fills you up to the brim. Finally you lick off from my glans. That is exactly when I would want to slip inside. After a hard fuck like that, your pussy would be so wet I could slam into as hard as I want. Just the way I like it.